This blog post contains affiliate links. 
Today is National Coffee Day. I'm not sure how I forgot the date of my favorite national holiday, but I did and I'm drowning my sorrows in a fresh cup. If you been reading for some time, you know that I have waxed poetically about the virtues of coffee over the years — from how to brew the best cup to imagining what people are thinking when they're in a coffee shop.
So what does a coffee addict lover like myself do on National Coffee Day? Drink coffee. I've been tempted to stand at my coffee bar (I AM one of those people) and not move today. Instead, I'll share what you'll find if you were to come visit and want to make your own coffee. Get ready for the jitters!
Large national chains are getting in on the coffee action today, with Dunkin' Donuts offering their medium-sized cup of coffee for .66 cents. Krispy Kreme is giving patrons a free cup of coffee AND a donut. (After all, coffee and donuts do go oh-so-very-well together.) My friends in the Northeast can stop in Wawa for a free coffee at any time today. For every cup of Mexico Chiapas coffee Starbucks sells today, the company will donate one rust-resistant (a fungus) coffee tree. As for me, I'll be visiting my favorite local coffee shop(s) later today to show a little love on National Coffee Day and fuel myself up in-between errands.
My Coffee Tools
There are days I'm pretty sure I like my Moccamaster coffee maker more than my husband. He understands my reasons for this and I'm pretty sure there are days he likes our coffee maker more than he likes me as well. It was an investment, but it's a workhorse that brews a fine cup and that's why we own it.
You can't make a great pot of coffee without a burr grinder. Fresh ground coffee truly makes my world go-round. I use a Bodum Burr Grinder that is a sturdy companion and allows me to select the grind for each method of coffee I might choose to brew with. In fact, I'm an unabashed Bodum fan, so you'll see several more items of theirs that I own and use in my search for coffee nirvana.


I'm also a fan of the Bodum pour over system. I know, I know, it's not a Chemex. That doesn't matter, I love Bodum's quality and that I don't have to worry about the wood on the neck of the Chemex being damaged due to exposure to water. The heat resistant silicone grip around the neck saves my fingers from burns as well as slips.

Good design doesn't have to be expensive, and neither is my 5 year old Bodum Brazil French Press. It gets used almost daily — when I need that one extra cup of coffee quickly.

I use an electric kettle to boil water for my pour over and French press and have used a Breville daily for the last 5 years.
If I'm in the mood for an espresso, I don't use a fancy machine. I turn on my cooktop and make it the way an Italian grandmother would, with a Bialetti Moka espresso maker. This is how I make my evening coffee and it is a soothing ritual that helps me wind down after a long day.

What are some of my favorite coffees? You can't go wrong with Illy coffee. I don't drink it daily, but do keep it on hand for special occasions, or when it's going to be a difficult week and I want a special treat.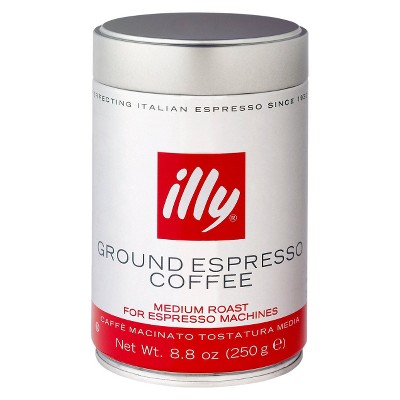 What is your favorite coffee? Not that I need any encouragement, but if I'm going to over share my coffee love, I don't want to feel left out.